Check out this article, it looks awesome!
Climbing the Extraordinary Excalibur Wall in the Netherlands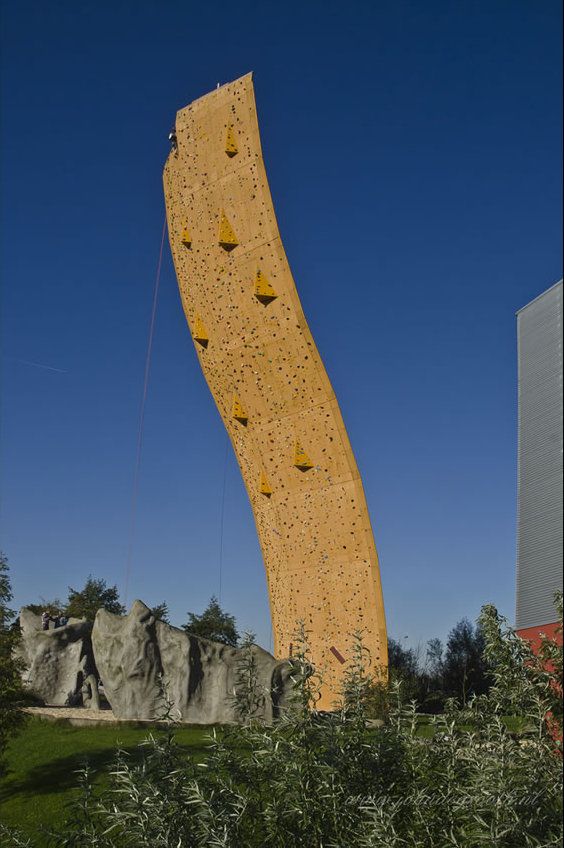 Climbing the Extraordinary Excalibur Wall in the Netherlands
0July 19th, 2012
Tagged adrenaline rush, architecture, Bjoeks, climbers, climbing, climbing tower, Excalibur, Excalibur climbing wall, extreme sport, Groningen, Kardinge Groningen, Klimcentrum Bjoeks, Netherlands
Permalink
The area around Groningen, Netherlands, has been described as "flat as a pancake" which leaves climbers with nothing to climb outdoors . . . that is until the massive climbing tower Excalibur was built. Klimcentrum Bjoeks is considered one оf the best Dutch Climbing Centers. It has a boulder area both outside and inside, as well as 18 meters (59 feet) high indoor climbing walls for route climbing. Outside Bjoeks looms the mighty Excalibur, a spectacular and curved climbing tower that is over 121 feet high (37 meters) to reach the thrilling peak. The overhang curves 36 feet out from the base and offers numerous routes up, from the slabby side, to the "steep" side that requires some thought and climbing muscle. Being adrenaline rush fans, we thought it looked pretty cool. Even if it's not made by nature . . . climbing to the top would allow adventurers, adrenaline junkies and extreme sport participants to see for miles. It would surely feel as if you reached the summit of Dutch mountain.