Having the route name at the base is standard in some areas all over the world, and frowned upon at others, home and away.
Some crags have parking lots, some have signs, some have bolts, some have tat. Most have chalk. Others have paths. Others you bushwack over them plants. Some have cairns. Don't worry too much about it. You, me, the blue paint and our CO2 will be gone one day. Even the stainless bolts!
You're happy to clip the bolts someone drilled into the rock, but writing the name in small blue letters on gray rock is to be undone? Interesting, we humans and our absolute ethics and morals. Which are everything BUT absolute. More like opinions, fluxy ones at that.
This is how some bolters do it in Kalymnos - they're stuck on with epoxy, there's another debate for you.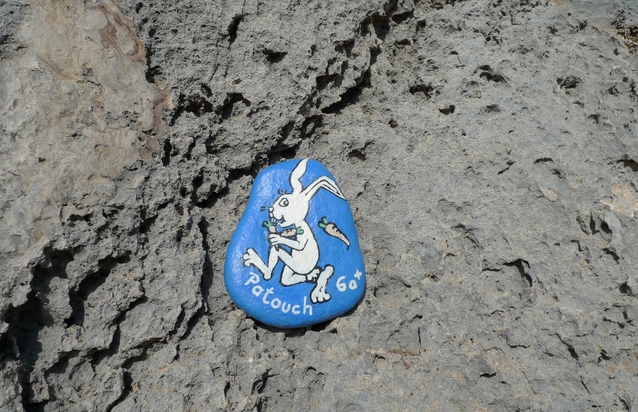 By removing the sign, you will have left another. Everyone will now know the route at the Belly Button slab with the blue splodge at the base is called Little Duck. So I suppose mission accomplished for both you and the sign painter right?
@Warren - check out these guys - their products are apparently the shit:
http://www.graffitiremovalservices.co.z ... lace_order
You can buy the cleaner and DIY